Linda and I have just come back from a blissful couple of weeks on Thassos, a large Greek island north of Thessalonika.  It was like stepping into a different world.  Shopping for food meant a 20 minute walk through olive groves to a medium-sized supermarket, where we bought Thassian olive oil, local pine blossom honey, and wonderful tomatoes.  And as for the bread we got from the very old-fashioned bakery at Theologos, a mountain village in the middle of Thassos – it was just the best bread I have ever tasted.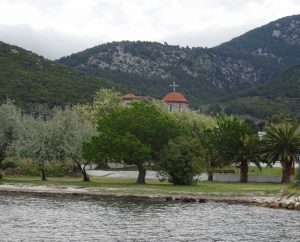 The first week we just slowed down, walking everywhere or taking the local buses.  On Sunday we went to the lovely modern Orthodox church in the seaside resort.  They did not have services there, but we sat in the shade outside and read the Gospel reading which would be read in our local churches back home.  Very appropriately it was Jesus talking about shepherds and sheepfold gates from John 10:  "The man who enters by the gate is the shepherd of his sheep…  He calls his own sheep by name and leads them out.  When he has brought out all his own, he goes on ahead of them, and his sheep follow him, because they know his voice."
 This image of shepherd as referring to God occurs in several places in the Bible.  There is the well-known psalm, Psalm 23: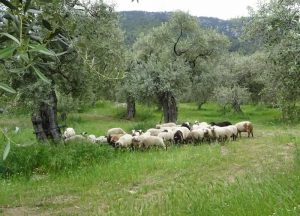 "The Lord is my shepherd, I shall not be in want.
  He makes me lie down in green pastures,
  he leads me beside quiet waters,
  he restores my soul."
Elsewhere, Psalm 80 starts:
"Hear us, O Shepherd of Israel,
 you who lead Joseph like a flock."
In the New Testament one of the most famous parables is the story of the lost sheep and of the shepherd who leaves the 99 unlost sheep out in the wilderness and searches for the 1 lost sheep until he finds it, and then throws a party.   (Matthew 18.12-14, Luke 15.4-7).
The first letter of Peter has this wonderful verse:
"For you were straying like sheep, but have now returned to the Shepherd and supervisor of your souls."  (1 Peter 2.25)
We saw plenty of sheep on Thassos, exhausted in the heat because of their heavy woollen coats, and lying in neat circles around each olive tree, all their heads facing the trunk.  We did not see a shepherd, but someone else in our hotel did, walking in front of his sheep.  But we had met a goatherd in Sardinia seventeen years before.  He was a young man who had studied electrical engineering at the local technical college, but had decided to be a goatherd instead.  It was amazing how affectionate the goats were to him, standing up on their hind legs and nuzzling him as if they were pet dogs.
My own memorable encounter happened many years ago, in 1963.  I had spent two weeks helping to excavate Masada just before Christmas, and then Mum and Dad had joined me in Israel.  We stayed in Tiberias, and after visiting a kibbutz, I said I would walk down a rocky valley which I thought would lead me back to Tiberias.  Well, it didn't.  After about an hour I found myself walking through a very pleasant valley with green grass and a small brook running through it.  Along the side of the brook a mixed flock of sheep and goats were slowly walking downstream, eating as they went.  Suddenly, I heard a loud shout.  I turned around, but there was no one there.  Very creepy.  I carried on walking, a bit more purposefully.  Again came that loud shout!  And again there was no one there apart from me and the sheep and goats.  I started walking very purposefully now, with somewhat paranoid thoughts of Arabs and daggers.  Then came a series of shouts:  "ASH!  BRR!  WOW!"  I then saw a young man get up from the shadow of the tree he had been sitting under on the very brow of the hill overlooking the valley.  He had been there all the time, keeping an eye on his flock.  He didn't send a sheepdog, he spoke to them in language they could understand.  "The sheep follow him, because they know his voice."
I feel privileged to have had that experience.  I know of no image that speaks so well of God's apparent absence and of his silent presence.